Hydrogen Delta
The ambitious Hydrogen Delta Program aims to make the industry more sustainable by phasing out gray hydrogen through clean hydrogen investments. The program also aspires to position the region as the largest hydrogen cluster in the Netherlands, Flanders and Europe.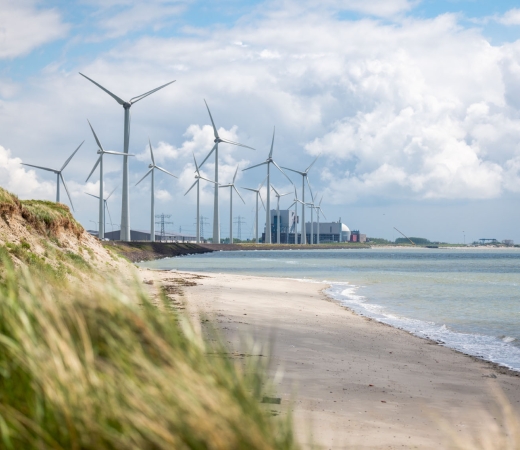 The Hydrogen Delta Program aims to make industry more sustainable by transitioning from gray hydrogen to blue hydrogen (CCS) and green hydrogen (solar, wind), with in addition potentially yellow hydrogen (import) and purple hydrogen (nuclear). This ambition is reinforced by the vicinity of the transnational harbour North Sea Port, with its multimodal connections, space for further development, and home to a significant existing chemical cluster.
The region is home to the largest industrial hydrogen cluster of the Benelux (580kta). The current SMR- and cracker-based hydrogen is mostly consumed as industrial feedstock and used for high temperature processes in industry. A transition towards a low-carbon hydrogen economy is of paramount importance to the region.
Consequently, major hydrogen consumers, producers, infrastructure providers, the port group and the relevant provinces on both sides of the Netherlands-Belgium border have joined forces to develop major interlinked cross-border clean hydrogen value chains. The companies, who are already cooperating within SDR since its founding in 2014, have developed the ambitious Hydrogen Delta Program which creates the foundation for further synergies and cross-linkages.
The SDR-region is home to the key landing point for offshore wind from the North Sea, providing a fertile soil for green hydrogen production. Currently, there are at least six electrolyzer projects in advanced stages of planning and development with an aggregated capacity of over 2 GW, as well as major blue hydrogen- and CCU projects. As concluded in the cluster energy strategy (2021), further scaling up of clean hydrogen production is required to meet the growing demand projected in the region.
The presence of several large-scale, flexible range steam methane reformers (SMRs) facilitate the flexible integration of unstable green hydrogen output from electrolysers. The oxygen produced during electrolysis can also be sold locally to steel giant ArcelorMittal, Zeeland Refinery, Dow and Yara, among others.
Smart Delta Resources contributes to various studies, subsidy processes and projects within the Hydrogen Delta programme, such as: 
Hydrogen Hub: feasibility, market potential and logistic implications of large-scale import/transhipment/export                     
Electrolyser system integration 
Development of local hydrogen infrastructure in the port area of ​​Vlissingen-Terneuzen-Ghent with connection to national backbones (Gasunie, North Sea Port, Fluxys)
Collaboration in initiatives to promote the hydrogen transition for industry 
Representation of the region in national and European working groups and hydrogen programs 
Support subsidy processes for hydrogen projects 
 
Examples of hydrogen projects in the region: 
Exchange of hydrogen (by-product) via a pipeline between Dow and Yara (completed in 2018) 
"ELYGator", Air Liquide has a project for 200 MW electrolysis in Terneuzen 
"H2ero", 150 MW electrolyser in Vlissingen on-site at Zeeland Refinery (TotalEnergies -Lukoil) 
"Haddock", 100 MW electrolyser on-site at Yara Sluiskil, project with Ørsted 
"Hy2Zer0" at Dow in Terneuzen, where methane-rich waste streams from the cracking process are used to produce hydrogen and the current crackers are adapted to run entirely on hydrogen
"North-C- Methanol", is being used by ENGIE and ArcelorMittal, among others, via the project in Ghent to make hydrogen to make methanol from CO2
"SeaH2Land", 500 MW electrolyser by Ørsted in Vlissingen-Oost, growth to 1GW 
Development of regional cross-border open-access hydrogen pipeline infrastructure by Gasunie, Fluxys and North Sea Port
By producing, consuming, importing and exporting clean hydrogen on a large scale, we aim to become the largest clean hydrogen cluster in the Benelux and Europe.