Ørsted and Yara develop project for green ammonia production
Ørsted and Yara join forces to develop a groundbreaking project.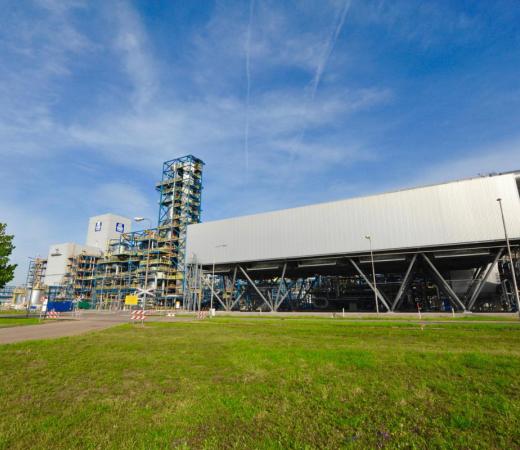 Ørsted and Yara join forces to develop a groundbreaking project to produce green ammonia. Fossil hydrogen is replaced by renewable hydrogen. Ørsted is the largest offshore wind farm developer in the world and Yara is a leading global fertilizer producer. The project provides a potential CO2 saving of 100,000 tons of CO2, which is equivalent to taking 50,000 conventional cars off the street. The project will be operational in 2024/2025, assuming that the hydrogen instrument announced by the government and the appropriate regulations will be ready by the end of 2021.
Yara and Ørsted both want to be leaders in creating a sustainable future. That is why both companies are joining forces to implement a process for the production of green ammonia at the Yara production site in Sluiskil. A 100MW electrolyser is being developed for this. This installation is powered by offshore wind energy from Ørsted. The goal is to replace fossil hydrogen with renewable hydrogen for the production of green ammonia at Yara's factory in Sluiskil in Zeeland. The renewable hydrogen can produce approximately 75,000 tons of green ammonia per year. That is approximately 10% of the capacity of the largest of the ammonia plants in Sluiskil.
Ørsted is currently about to start using the Borssele 1 & 2 offshore wind farm. This wind farm is the second largest in the world, located off the coast of Zeeland, close to the factory in Sluiskil. The green ammonia is intended to be used in the production of green fertilizers. In this way the food chain can be further made CO2 neutral. In the future, it may also be used for climate-neutral marine fuel.
Hydrogen produced from renewable energy sources is a CO2-free alternative to hydrogen based on fossil sources. The costs of renewable hydrogen are currently considerably higher than fossil hydrogen. That is why, in addition to private money, government support is also required for the time being to be able to produce renewable hydrogen on a large scale. Ørsted and Yara are therefore now seeking public co-funding to support the development and construction of the 100MW electrolyser. Subject to sufficient co-funding and a good business case, a final investment decision for the construction of the new factory will be taken at the end of 2021 or early 2022.
"Ørsted is committed to investing on a large scale in the production of renewable hydrogen. With the right support, this leading collaboration project of Yara and Ørsted will lead to a significant reduction in CO2 emissions. This project also prepares the renewable hydrogen technology for future CO2 reductions in European industry, "says Martin Neubert, Executive Vice President and CEO of Ørsted Offshore.
"Green ammonia is the most promising hydrogen carrier for various energy applications, such as low-carbon marine fuel and sustainable food production. The partnership with Ørsted on this project represents an important step forward to enable Yara to fulfill its strategic ambitions in these areas, "said Terje Knutsen, EVP and Head Farming Solutions in Yara.
With the large amounts of future offshore wind and high hydrogen consumption in the coastal areas, the Netherlands is well positioned to be at the forefront of the green transformation of heavy industry based on wind energy. This is good for the competitiveness of important industrial sectors. It also creates economic activity and jobs. This project could be a milestone for the hydrogen roll-out of the Smart Delta Resources cluster in Zeeland and an important step in the upscaling of renewable hydrogen to 3-4 GW in 2030 in the Netherlands.
"We call on the Dutch government to set up a clear and concrete hydrogen program. This requires a structural rollout of electrolysis capacity and suitable hydrogen instruments to achieve cost-efficient production of renewable hydrogen as quickly and efficiently as possible. Phasing and upscaling are crucial for this. The first phase of the successful offshore wind program can serve as a blueprint for this, "says Steven Engels, director Ørsted Netherlands.