Study concludes: North Sea Port well positioned for clean hydrogen hub
As part of the Hydrogen Delta programme, SDR has coordinated a feasibility study into the possible hub function of North Sea Port for clean hydrogen (carriers).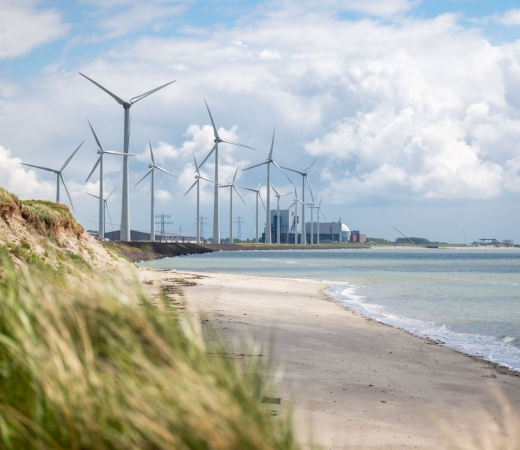 Smart Delta Resources (SDR), an international partnership of large companies from the chemical, steel, energy and food industry in the Scheldt Delta region, focuses on CO2 reduction, sustainable raw materials and green energy. One of the most important programs is the Hydrogen Delta Programme, which aims to help make the largest hydrogen cluster in the Benelux more sustainable by phasing out gray hydrogen through investments in clean hydrogen. As part of this programme, SDR has coordinated a feasibility study into the possible hub function of North Sea Port for clean hydrogen (carriers). Partners in the study include ENGIE, PZEM, Vopak and Yara. The research was carried out by CE Delft and Buck Consultants International.
 
The study shows that North Sea Port is ideally positioned to become an important hub for clean hydrogen:
The region is home to the largest hydrogen cluster (600 kton/y) in the Benelux with growing volumes expected in the industry
Existing infrastructure within the region can be used for promising hydrogen carriers such as liquid organic hydrogen carriers (LOHC) and ammonia
The Scheldt Delta region is strategically located in relation to the planned hydrogen backbones in the Netherlands and Belgium; and can connect with large hydrogen clusters in north western Europe
The port area (North Sea Port) has sufficient land available at relatively competitive prices that is needed for hydrogen reception and conversion assets
The port has excellent nautical conditions with room for hub development at locations with sufficient depth and accessibility
The cost estimate and research into promising export countries show that it is economically feasible to develop the import chain in the region, while import can help the local economy through extra flexibility. green production chain. The study concludes that the hub function could create hundreds of new jobs.
Clean hydrogen production
Following the research into large-scale green hydrogen production in the region in 2019 and 2020, various hydrogen production projects are at an advanced stage of planning. Today, the Scheldt Delta region is home to several promising clean hydrogen projects, including ArcelorMittal's RecHycle, Air Liquide's ELYGator, North-C-Methanol, Ørsted's SeaH2Land, Zeeland Refinery's H2ero and Ørsted-Yara's Haddock.
Backbone
North Sea Port is working together with pipeline operators Gasunie (NL) and Fluxys (BE) on the development of a hydrogen pipeline network in the cluster under the project name Hydrogen Delta Network. The envisaged pipeline network will connect the main hydrogen producers and consumers within the cluster and to other regions via national backbones. This project is an absolute precondition for realizing the hydrogen hub.
North Sea Port hydrogen strategy
North Sea Port recently presented its hydrogen strategy. The hydrogen transition is of crucial importance for this promising region. That is why industry, port and government have been working together for years on a climate-neutral hydrogen chain within the Hydrogen Delta Program of Smart Delta Resources. North Sea Port plays a crucial role in this transition and makes its role and ambition very tangible with this hydrogen strategy. All the building blocks to make this strategy a success are present. Together towards a hydrogen hub of European importance!
More information: North Sea Port: from the largest hydrogen hub in the Benelux to a hydrogen hub on a European scale