The Multi Generation Plan, Dow's roadmap to CO2 neutral production
In the past year, Smart Delta Resources partner Dow presented its Multi Generation Plan. This plan describes the route that the Terneuzen site of the chemical group will take to achieve CO2 neutrality in 2050.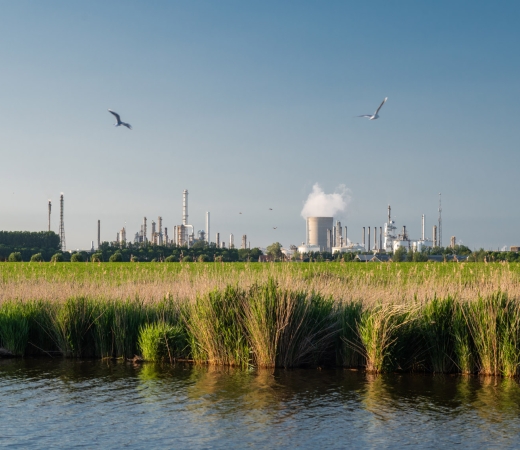 This ambitious plan consists of three phases, called generations, with each generation building on the development of the previous phase. In this way Dow guarantees the sustainability of the developments for the longer term.
Dow produces raw materials worldwide that are used for the manufacture of a wide variety of products such as telephones, wind turbines and insulation material. The American company has been active in the Scheldt Delta region for over 50 years, with the Terneuzen site being one of their largest production locations. A lot of CO2 is released during the production process, which is why Dow has started making the factory more sustainable. The Multi Generation Plan describes the steps in which they want to achieve this, namely:
Generation one: 35% reduction in 2025
In the new hydrogen factory to be built, the residual gas methane, which is used as fuel for the crackers, is converted into CO2 molecules and hydrogen molecules. The CO2 is captured, removed and stored and the remaining hydrogen is reused as CO2-free fuel for the cracker. This means that CO2 emissions have fallen by 1.4 million tons in 2025, a decrease of 35%. This is equivalent to 300,000 cars, or 7% of the CO2 reduction that industry in the Netherlands aims to achieve by 2030.
Generation two: replacing gas turbines
The hydrogen produced on site is also used in the second generation for other parts of the production process. Among other things, the gas turbines, which currently run on methane, will be replaced by electric turbines. With this step, the counter in 2030 will save 42.5% of the current emissions of the Dow site in Terneuzen.
Generation three: electric cracking
Scientists and technicians are busy developing technology that makes electrical cracking possible. With this technology, Dow will eventually be able to reduce CO2 emissions to zero in the third generation. In addition, hydrogen remains in the process of electrical cracking, which can be used further in the factory. Insofar as the hydrogen is not used for own use, it can be supplied to industrial partners in the Scheldt-Delta region, but perhaps also as fuel for households, cars and ships.
Investing and working together are central to the implementation of the Multi Generation Plan. And the fact that a 10% increase in employment is expected at the company's own organization and suppliers, ensures, in addition to a CO2-neutral industry, an economically stronger region.
More information can be found at dowcircles.nl